/
The Best Palm Springs Door Tour Guide + Video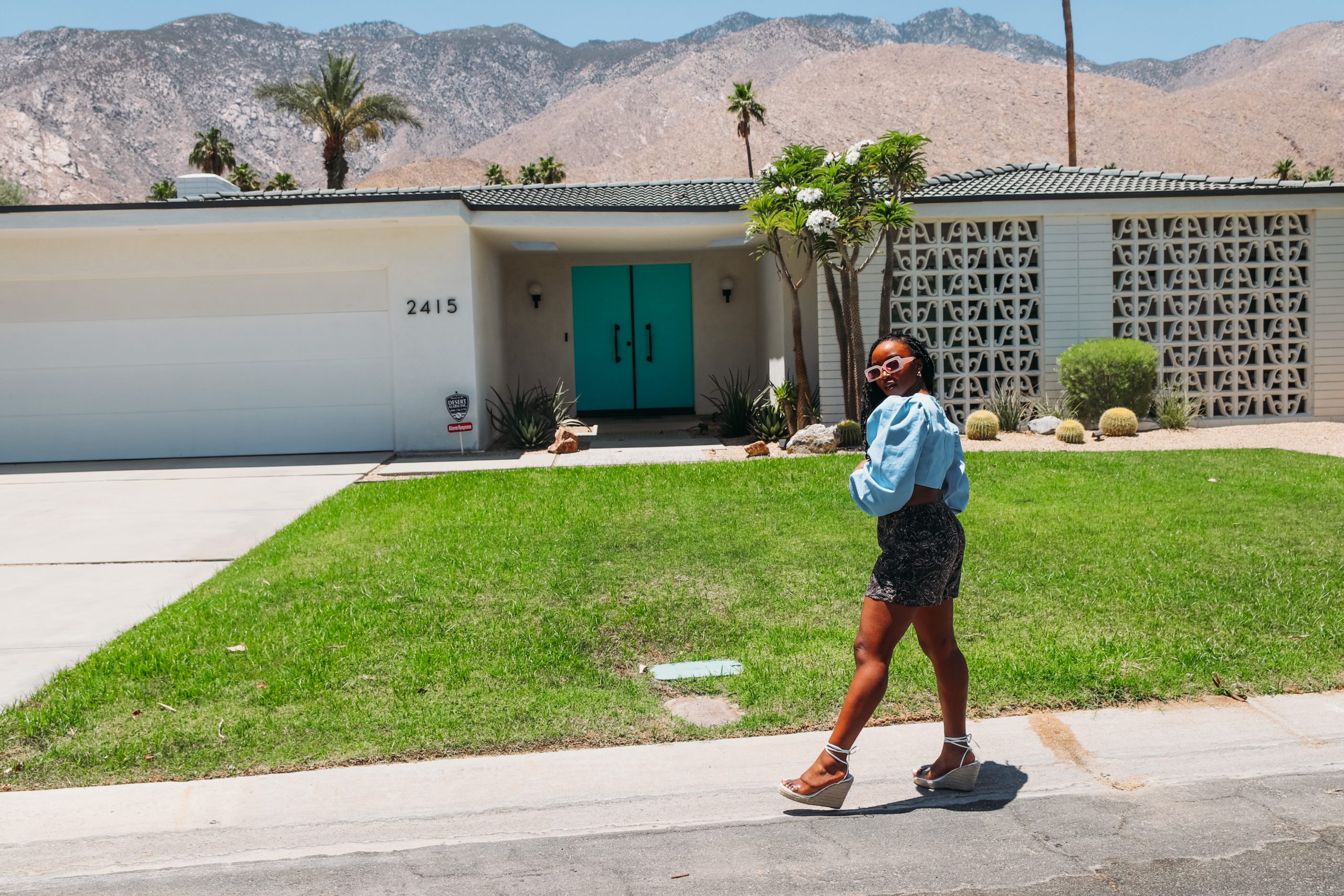 It was 116 degrees when we got to Palm Springs. The worst possible day to be outside chasing colorful doors and stunning architecture, but alas, here we were. Two girls in a red Mustang with the air conditioning on full blast. We were ready to take a DIY, self-guided Palm Springs door tour. The city is said to have the largest amount of mid-century modern architecture concentrated in one area in the United States. Many of the homes are marked by their beautiful entryways. Making time to see some of the most iconic ones, like "That Pink Door" and others on E. Sierra Way, are a must when visiting the desert. Dare I say, it's like an adult version of ding dong ditch? Just without the actual ringing of doorbells. Let's not do that. Instead, follow this easy-to-navigate guide, with some addresses and popular neighborhoods where you'll find an array of dashing doors and tips to help you get the perfect shot while there. 
Palm Springs Door Tour Addresses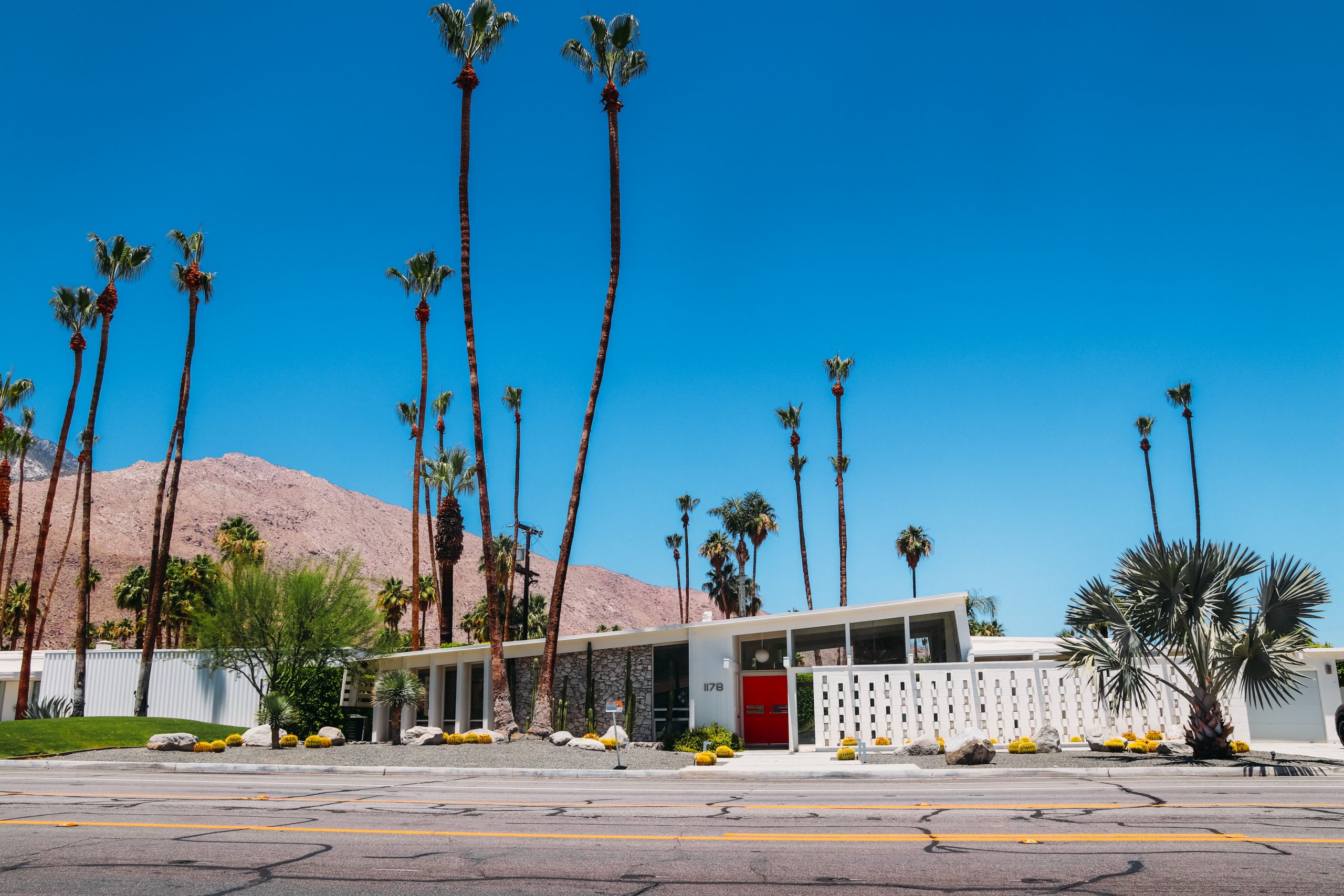 Red door, 1178 S. La Verne Way
Would you believe me if I told you this 1960s gem was abandoned for many years, only to be recently revived? Yes way! Thank goodness for it's rebirth, because honey it's a stunner.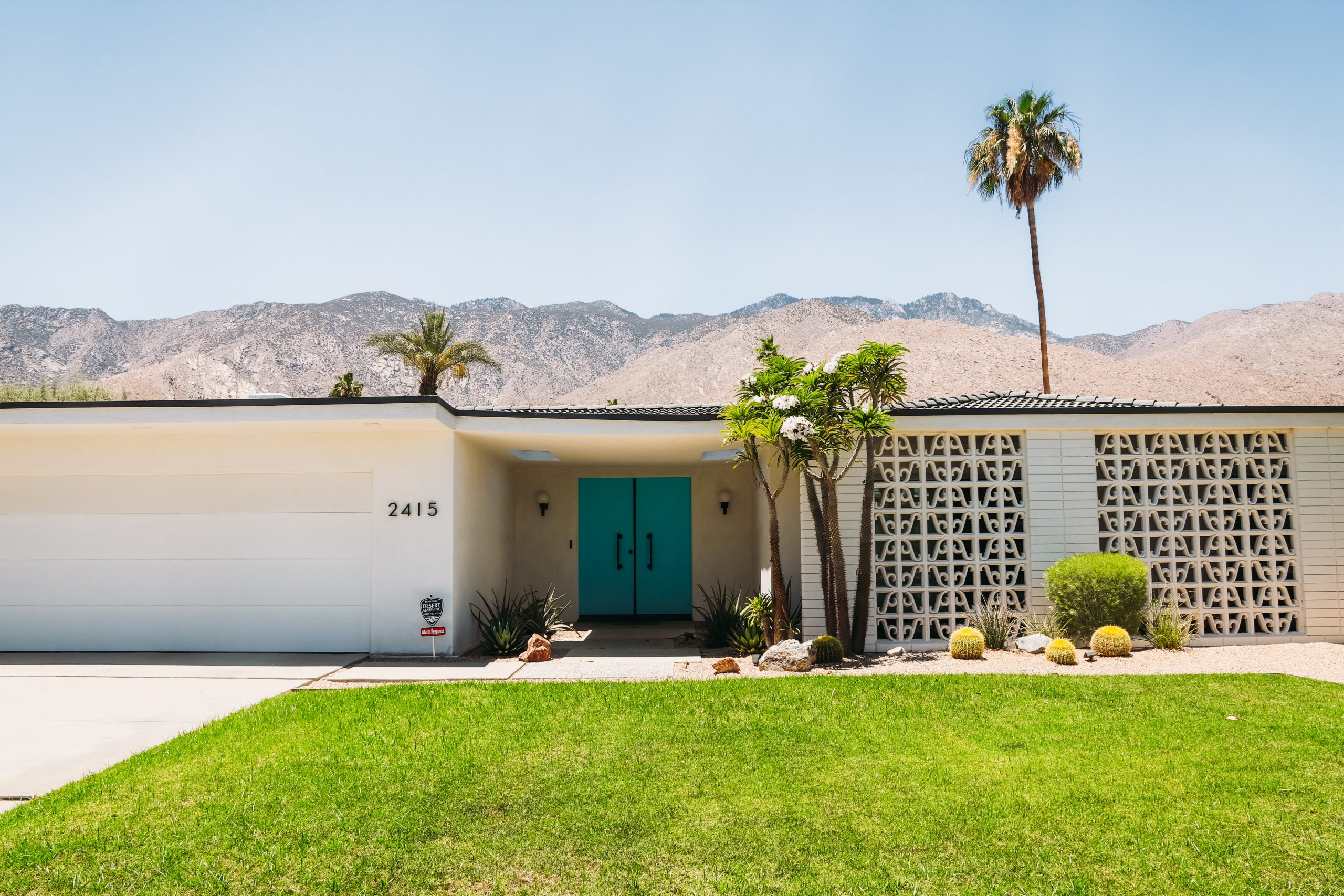 Turquoise door, 2415 S. Yosemite Dr.
As if the jaw dropping views of the San Jacinto and Santa Rosa Mountains in the background aren't enough, the turquoise door on this home is an added bonus and a welcomed pop of color. Make sure to pin the door photos to your Pinterest board, to help inspire your next trip to Palm Springs.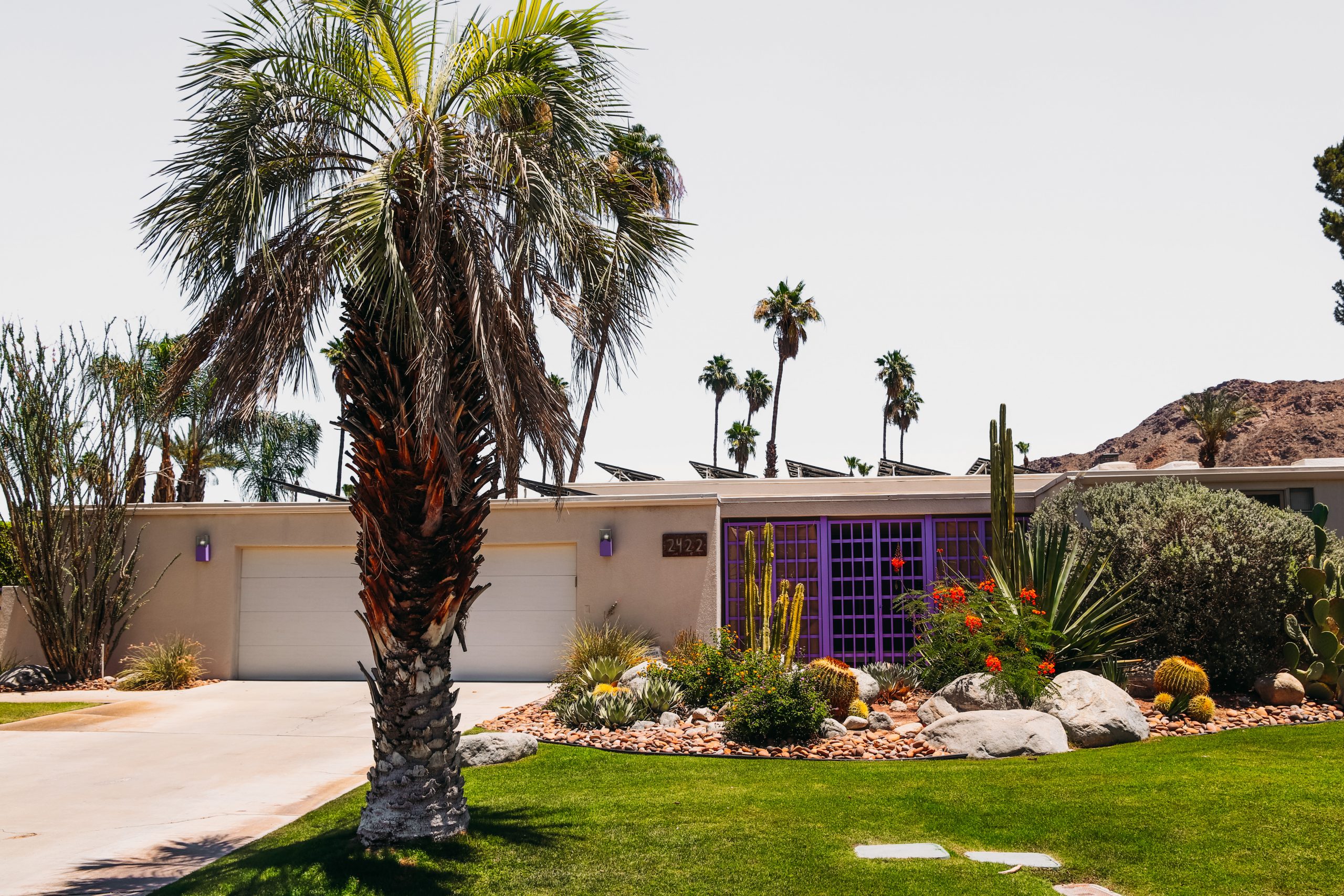 Purple door 2422 S. Yosemite Dr. 
Not too far away is the purple door on the same street as the turquoise one. Can we also get into that perfectly manicured landscaping?
It's nice to know where to start and to have exact addresses to the homes, but what you'll notice while exploring Palm Springs is that you'll stumble upon so many beautiful homes just by chance. It's more fun that way too! The surprise and wow factor are worth it, so in light of that, before I give you one more address, I'll share a list of streets that are hot spots for door sightings.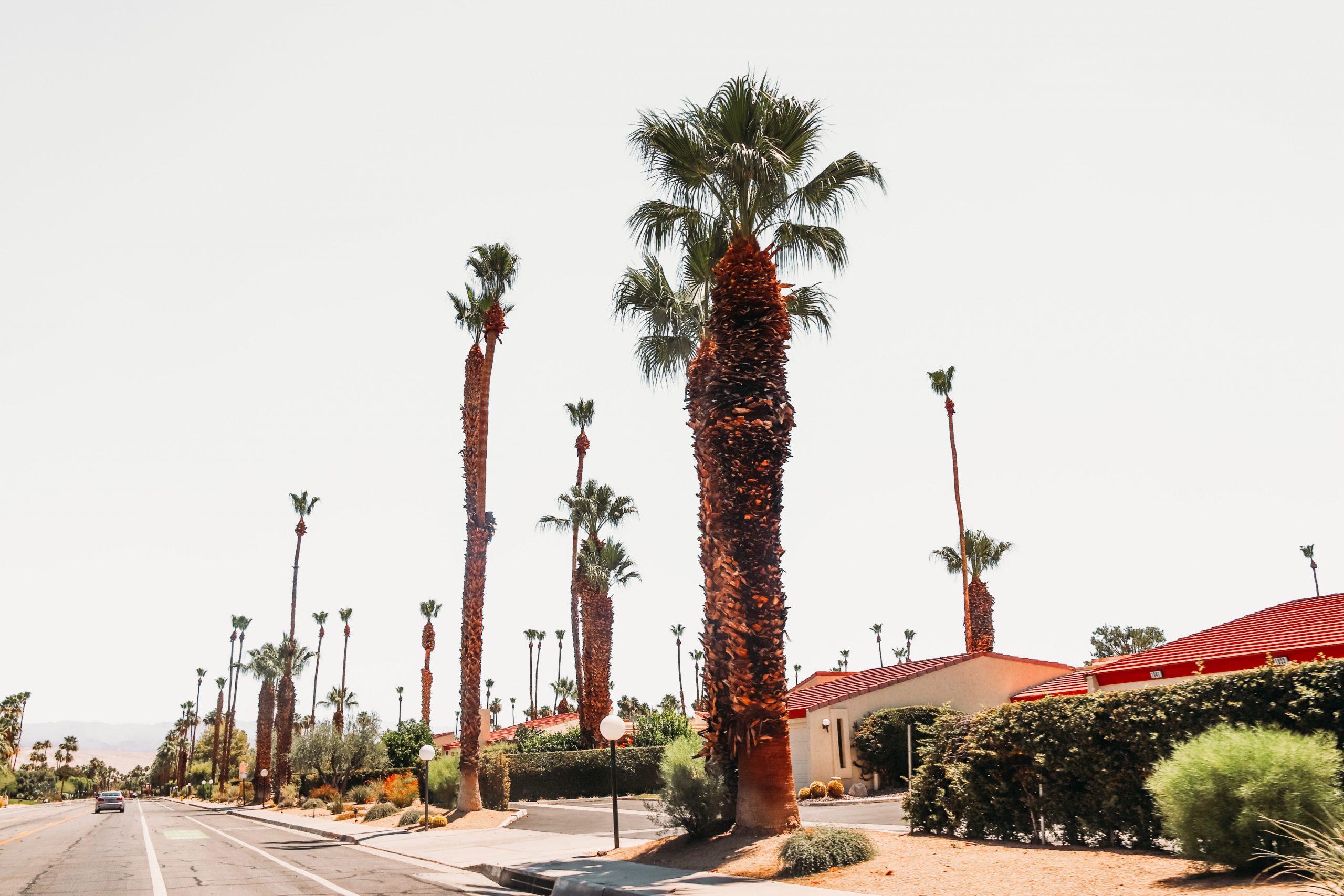 Palm Springs Neighborhoods with Bright Doors
Indian Canyon neighborhood (several blocks south of The Ace Hotel & Pool Club)

Yosemite Drive

S. Camino Real 

Lobo Way 

Sierra Madre

Alhambra

Via Lazo and East Via Lazo

South Madrona Drive

King's Point Neighborhood

Murray Canyon Drive

Circo Circle

Cadiz Circle

The video at the bottom of this post has a few extra spots, so be sure to watch it and take a screenshot of the neighborhoods I've listed on there.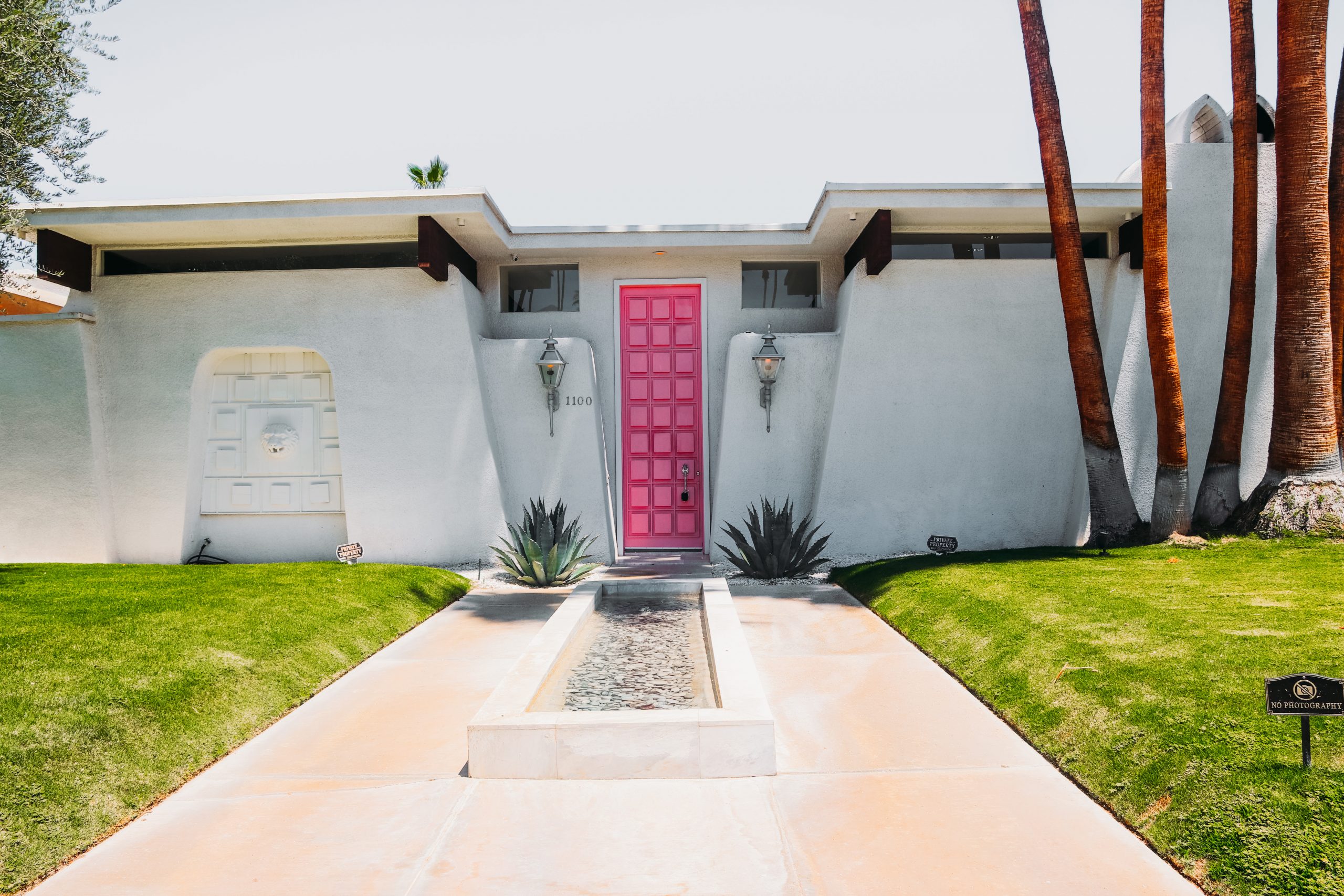 That Pink Door, 1100 East Sierra Way
You can't have a list of iconic Palm Springs doors, without mentioning one of the most popular ones. She's known as "That Pink Door." She's an Instagram legend and you've probably seen some of your favorite content creators and influencers share their shots of this beauty.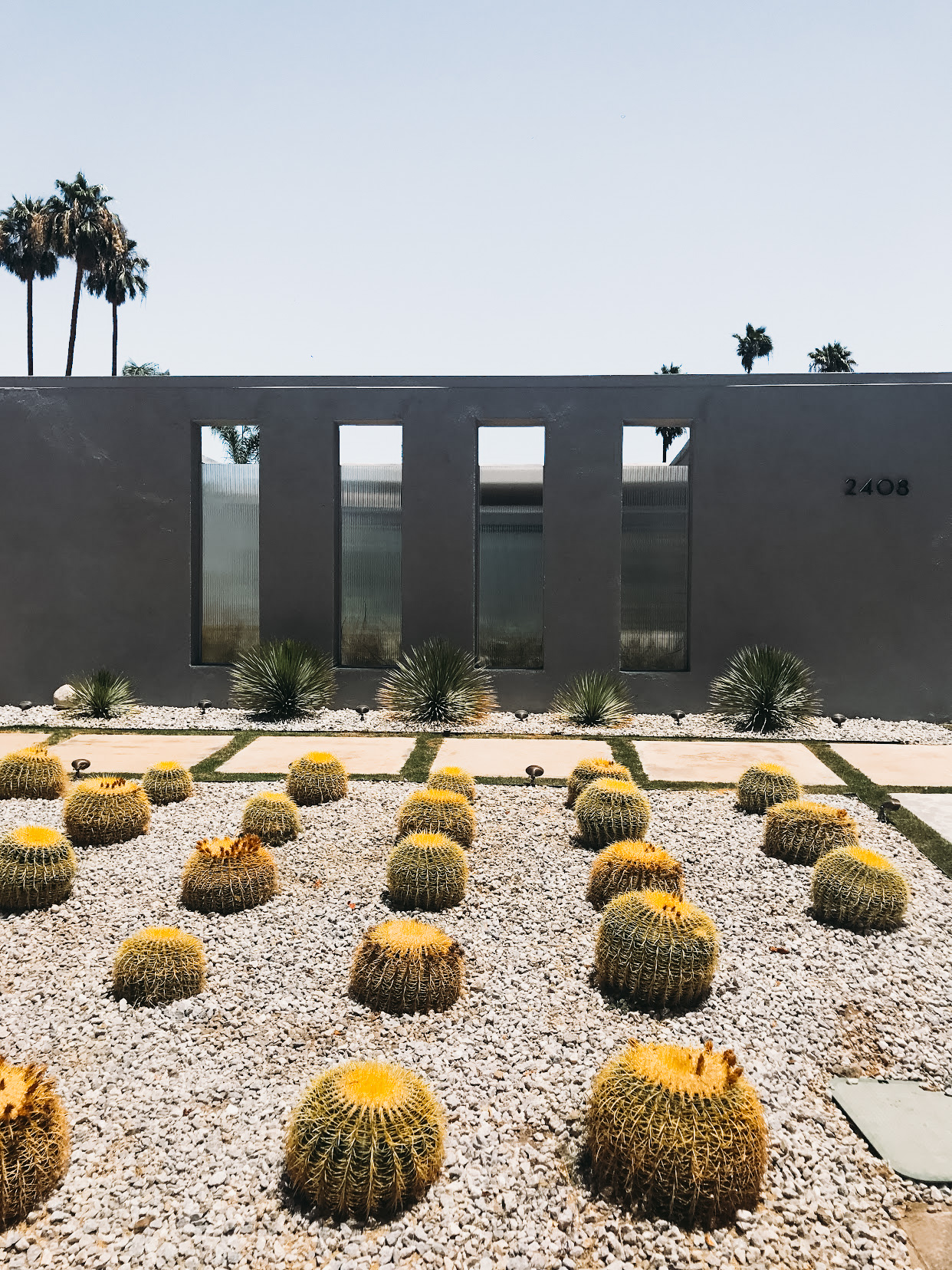 Palm Springs Mid-Century Modern Architecture
Desert modernism is all about minimalist style and clean lines, which you'll see many of the homes display. Can we put a quick spotlight on the manicured lawns, the superb landscaping and the beautiful architecture as a whole!? You'll see a lot of desert plants and impressive xeriscaping (landscaping and gardening that doesn't require much water). These neighborhoods really live up to the hype. 

How to find even more colorful doors in Palm Springs
Get a little resourceful and use the maps app on your phone. If you put in one of the addresses or neighborhoods I mentioned above and use the street view to see which homes are close by, you'll easily spot many more doors with personality. Don't miss the one featuring two party lions (you'll know em when you see em). You'll notice that many of the colorful doors are concentrated in some of the same areas, making it super easy for you to check a bunch out in no time. Speaking of, let's talk about the best way to see the neighborhoods. 
How to get around on your Palm Springs Self-Guided Tour
Walk, drive or bike through the neighborhoods, but brings LOTS of water, because it gets HOT! I wouldn't recommend walking, as we had to retreat to the car every 10 or so minutes, because it was THAT HOT outside. I'd only suggest biking from January to April, unless you go really early in the morning before it gets unbearably hot. Make sure to bring your sunscreen. You too, brown girls. Protect that melanin, sis. If you do decide to bike, take note that lots of local resorts offer free bikes to guests.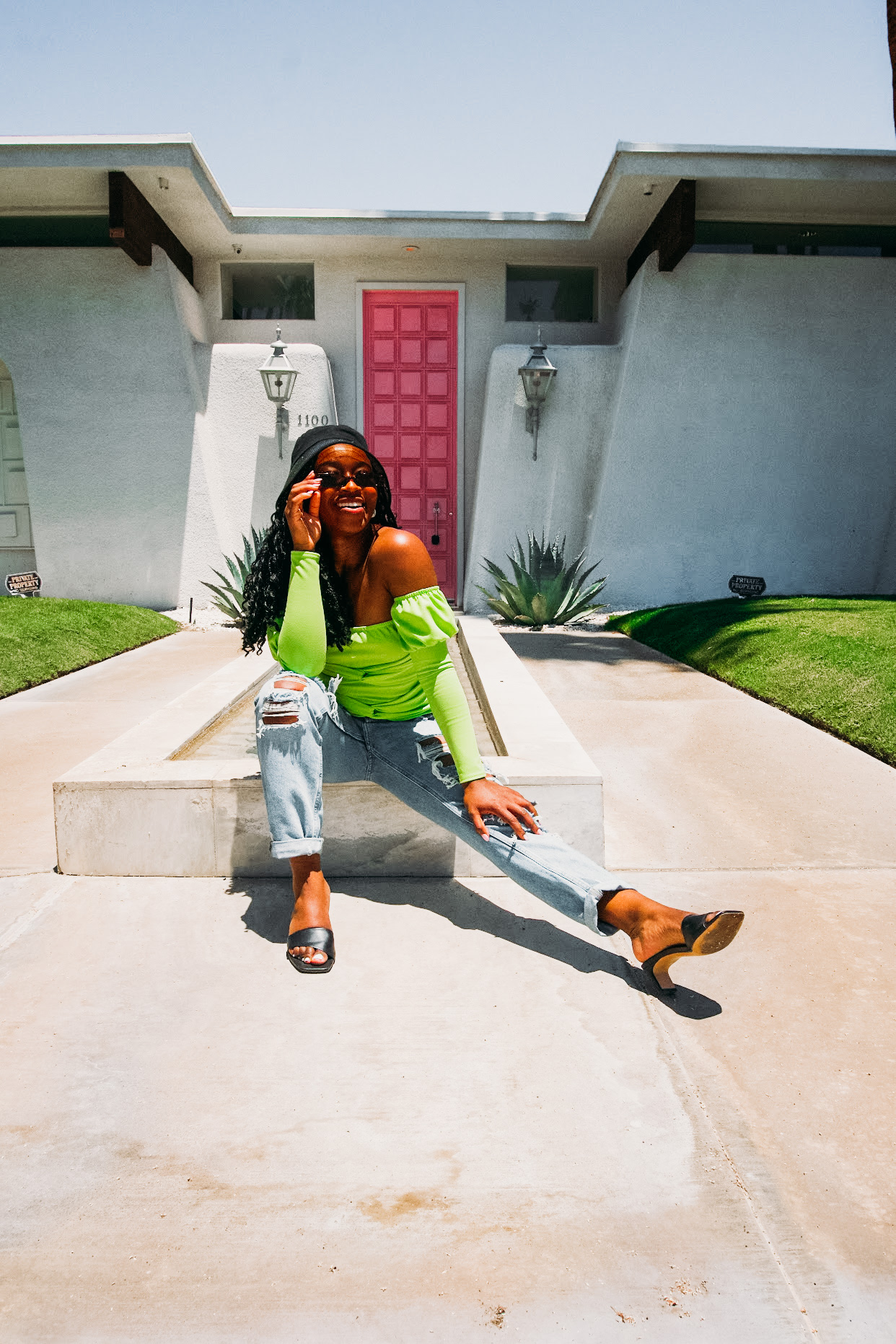 What to Wear on a Palm Springs Door Tour 2021
The doors can't be the only things poppin'! Make sure to wear pops of color to compliment them and really bring your photos to life. If I could do it all over again, I would have worn more breathable fabrics. Think cotton, linen and silk. Your best bet is flowy dresses, cotton crop tops and halter knits or wide legged pants. Even a flirty silk slip dress would be perfect. Floppy hats and shades are a good call too, to help block out the sun, while still looking cool.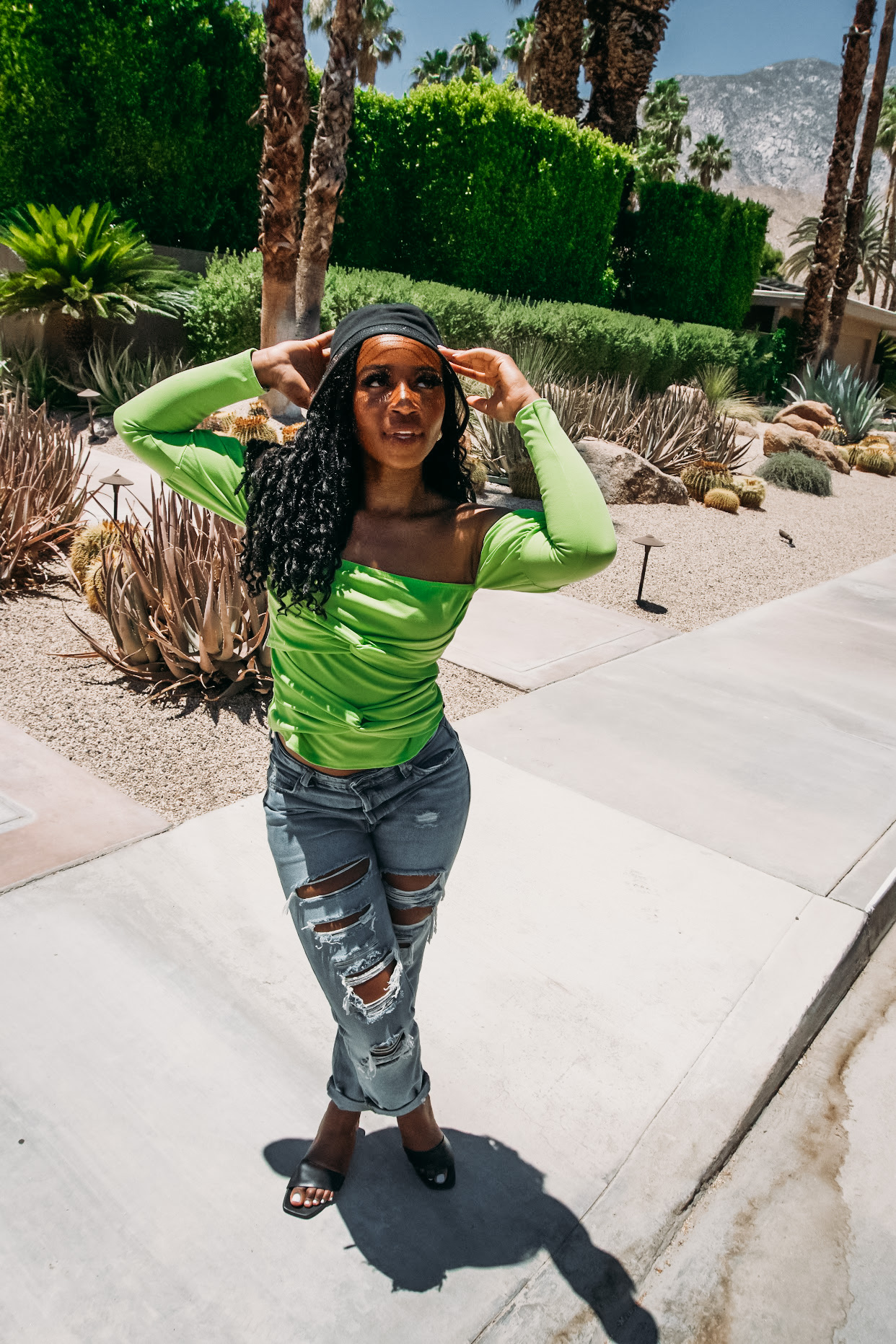 When to Visit Palm Springs + Capture the Most Epic Door Photos
Generally, the best time to visit Palm Springs is between January and April, when the weather is not so disrespectful and you can walk or bike around without melting. The best time to capture the doors is a couple of hours before the sun goes down, so you're not battling the light from the bright sun. However, we went mid-afternoon and were still able to work around it and get some solid shots.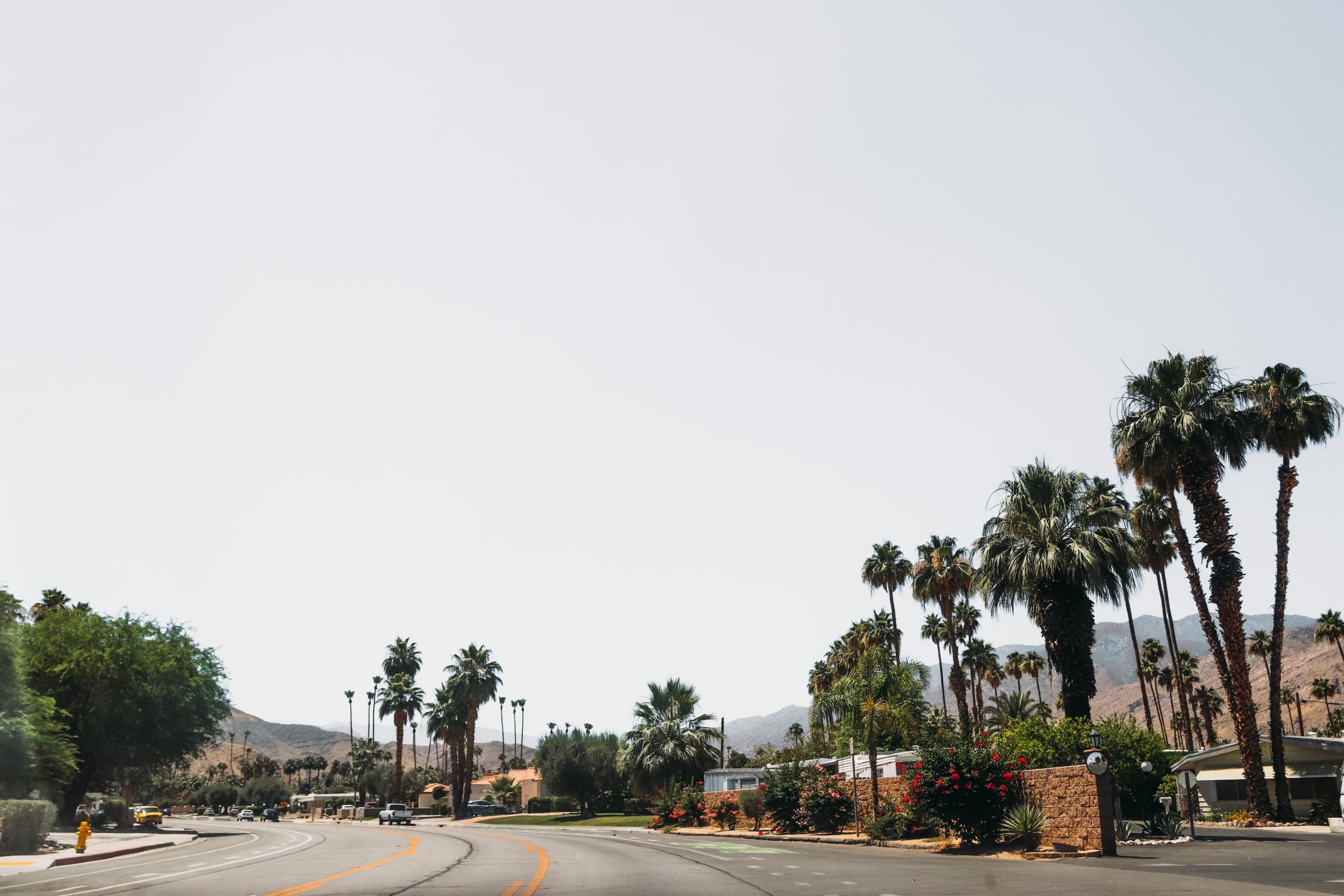 Guided Palm Springs Door Tour 
If the idea of taking your own self-guided tour sounds exhausting, you can wait to take a guided one. They happen during Modernism Week in PS every year, but will cost you a pretty penny. Plus, tickets sell out fast, so you'll have to catch them right when they drop. Wanna see inside? A guided tour is your way in, or you can cleverly attend a real estate showing to get an up-close look inside one of these beauties.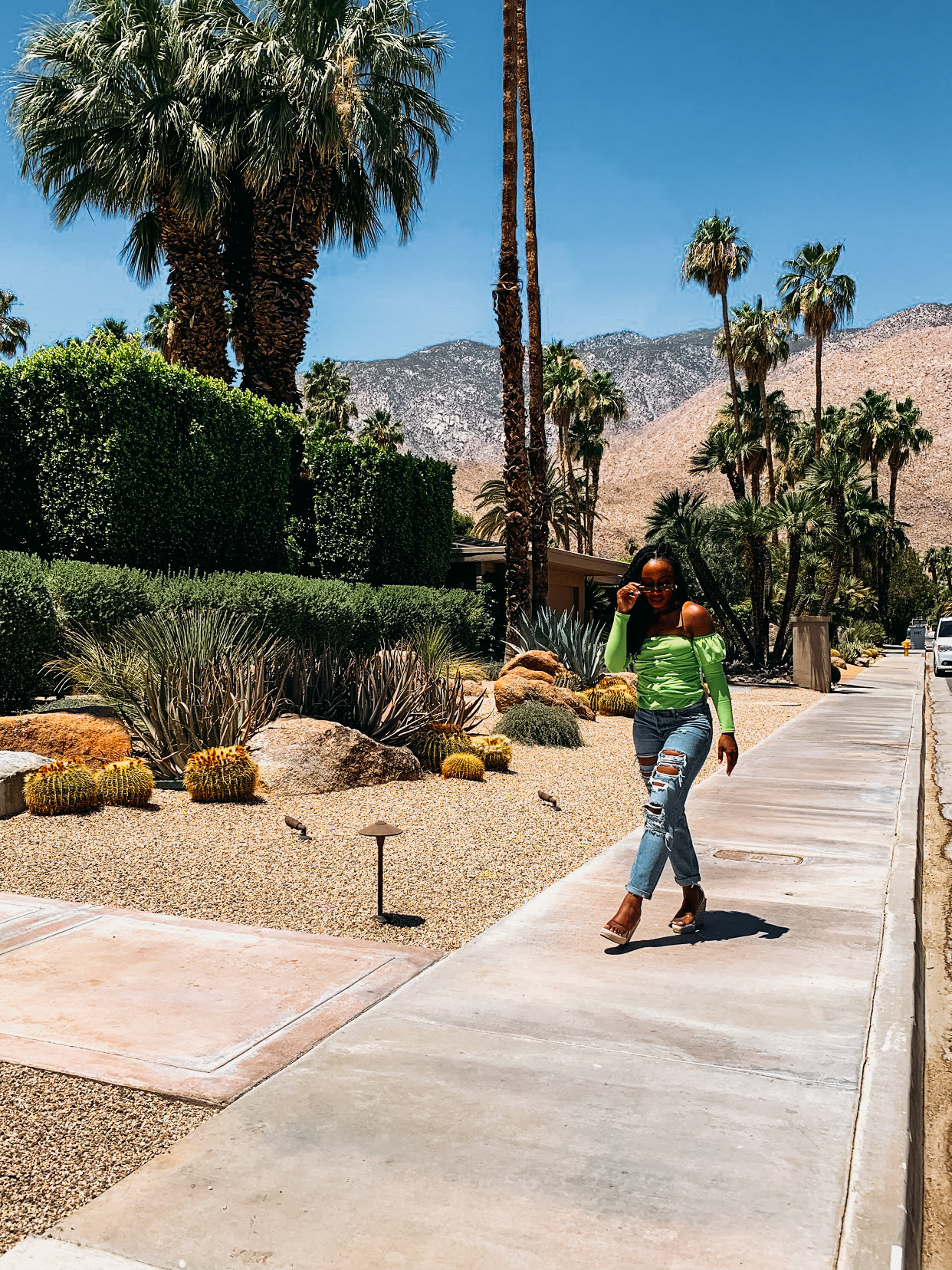 Palm Springs: Know Before You Go
If there's a big tip I'd leave you with, it's this. Remember that people live behind these fabulous doors. Be sure to respect their property and shoot from the sidewalk or the street (aka public property). Some of the homes have signs in their front yards asking that you don't go up to their doors. Respect that and know that you can still land some AMAZING shots without being right at their doorway… because how creepy would it be to open your front door and see a complete stranger standing there.
To see for yourself what to expect on a DIY Palm Springs Door Tour, click the video below! Follow me on Instagram for more videos like this. Watch and let me know below which colored door is your absolute favorite?
 

 

View this post on Instagram